If you are looking for somewhere within easy reach to take the kids over Easter, or if you just fancy a couple of quiet hours to yourself soaking up some local history, take a look at the Wandsworth Museum.

It's based at 38 West Hill, in the building which used to house the library. I took my seven and eight year old children along, fully prepared for them to charge round in five minutes and head straight for cake in the café.

I was surprised and delighted that actually they found the exhibits more than a little interesting.

There are just over 25,000 items in the Wandsworth Museum collections. Most of these are part of the original Wandsworth Borough Museum's collections and were collected over a period of 100+ years through the various incarnations of local museums in the region. Museum staff have been able to trace some of the items in the collection back to the original Battersea Museum founded in 1906. Over the past few years new artefacts and objects have been added to the collection through donations from individuals and families wishing to share their own heritage with locals.



The first room takes you on a journey through local history from the Iron Age, through the Ice Age, the Stone Age, The Victorians, The Edwardian and so on through to the modern day. What is particularly fascinating is that all the artefacts are everyday objects, or at least every day in relation to the era from which they emanate. We particulary enjoyed the 1890s Victorian Dolls House based on a Victorian Villa In Nightingale Lane, and the partial skull of an Ice Age Rhino.

The second room is all about people and places. The kids spend a good half hour fiddling with an old telephone exchange, which left me free to browse the paintings, posters, and WW2 medals. Of particular interest was the 1910 estate agent details of Victorian Villas for sale in Putney, the Young's Brewery local map, and some beautiful local paintings including a stunning 1930s watercolour of Wandsworth Town Hall.

The museum is a private charity and entry costs £3.00 per adult, £2.00 for over 65s, youths, unemployed & students, and is free for children 5 and under. You can also buy an annual pass for £8.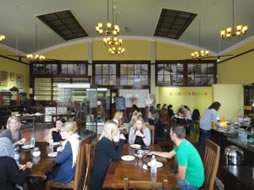 The attached café is also well worth a mention, and staff were keen to point out that you don't even have to go in through the museum if you are passing and fancy a quick cuppa or cappuccino. And indeed the coffee is great, as are the homemade soups and cakes.

There's even a soft play area for little ones, and museum merchandise for older kids to try and spend your money on.

Wandsworth Museum is well worth a visit.


Louise Salmon

March 22nd, 2011