Sir Bradley Wiggins and Mark Cavendish can be spotted in SW15 this Sunday
More than 25,000 cyclists will be racing through Putney on Sunday August 2 as the Prudential RideLondon cycle festival hits town again.
This year an extra 25% more amateur cyclists will take part in the event. They will cycle down Putney Hill and over Putney Bridge as they approach the final stages of the Prudential RideLondon-Surrey 100. A series of events has been organised in Putney to entertain spectators.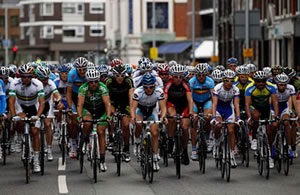 The amateur cyclists will be followed by the world's top cyclists including Sir Bradley Wiggins, competing in the 200km Prudential RideLondon-Surrey Classic event.
The amateur riders start passing through Putney at around 9.50am with a steady stream of bikes all the way through to about 5pm. Then the professionals should appear sometime between 5.50pm and 6.30pm.
Mark Cavendish, winner of a stage in the recent Tour de France, will race in the Classic event. He will ride with his Etixx - Quick-Step team against 25 other teams of six riders. Other big names competing include Tour de France stage winner Andre Greipel and defending champion Adam Blythe.
Now in its third year, the race (Category 1.HC on the UCI Europe Tour) offers the highest prize money pool of any one-day Classic and will be televised live by BBC Sport with coverage distributed worldwide.
Cavendish said, "I can't wait to ride this year. After only two years, this race is already an event every rider wants to win and you can't beat racing in front of British crowds. After missing out in 2014 I was determined to ride in 2015."
Road closures in the area:
Tibbet's Ride SW15
Putney Hill SW15
Putney High Street SW15
Putney Bridge SW15
Wimbledon Parkside SW19
Tibbet's Corner SW19
These roads are scheduled to be closed from 7am to around 7.30pm but Putney High Street will be closed at 6am to allow crowd barriers to be installed.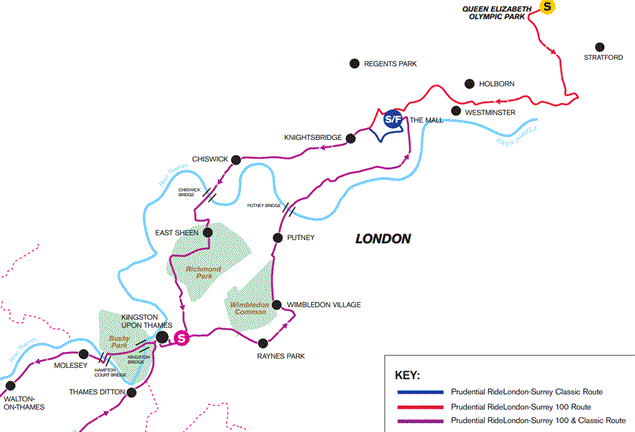 Chelsea Bridge, Albert Bridge and Battersea Bridge will all be closed while Wandsworth Bridge will be closed with access for residents only from 7am to around 7.30pm.
A car free street party will be held in Lacy Road where people can race their friends on static bicycles and generate electricity, promoting green energy and cycling.
The Big Wheel Theatre Company will be performing their show 'The Pollution Solution' throughout the day highlighting ways to tackle climate change and the growing problem of air pollution, by travelling in a sustainable way and plant green walls, hedges and bushes.
Eddie Catz will have a bouncy castle and offer face painting, popcorn and candy floss.
The Al Fresco Steel Band will be playing between 1pm and 3.30pm while the council's environment team will be available all day to discuss the borough's air quality action plan and offer advice on how local people can support its aims.
Local businesses Sporting Feet and Crewroom will be offering special discounts on the day, while Guiliano and Urban Diner will have lots of outside seating available where customers can take in the atmosphere.
The Coat and Badge pub will have a Pimms station and an outside barbecue, as well as a special raffle to raise money for disability charity Scope.
Putney High Street will be closed to all vehicle traffic from 6am on Sunday while Wimbledon Parkside, Tibbet's Corner, Tibbet's Ride, Putney Hill, and Putney Bridge will close from 7am. They are expected to reopen at around 7.30pm once all the riders have departed.
Chelsea Bridge, Albert Bridge and Battersea Bridge will all be closed while Wandsworth Bridge will be closed with access for residents only from 7am to around 7.30pm.
The Putney Exchange car park will however remain open for the day with access via Lacy Road from the west as the barrier at Mascotte Road will be opened for the day. Putney Town Centre is very much open for business.
Some bus services will be diverted, temporarily suspended or terminate earlier than their usual destination as a result of the road closures - and there will be stops that are temporarily relocated or suspended. Trains to Putney will run as normal.
More than 25,000 amateur riders will start at Queen Elizabeth Olympic Park from 6:00-9:00am in the mass sportive that last year raised a record-breaking £10 million for charity. Thirty top handcyclists will race from Kingston upon Thames to The Mall in the Prudential RideLondon Handcycle Classic and the final event of the festival sees 25 teams of the world's top men race in the Prudential RideLondon-Surrey Classic, starting in Horse Guards Parade at 13:30 and televised live on BBC TV.
X Factor winner Sam Bailey and sports stars Jonathan Edwards, Darren Gough and Sally Gunnell are among the famous faces taking on the challenge of the 2015 Prudential RideLondon-Surrey 100 on Sunday 2 August.
They'll be among the 25,000 riders racing through Wimbledon town centre, up Wimbledon Hill Road, through Wimbledon Village and across to Putney before crossing Putney Bridge towards the finish at the Mall.
Joining Bailey in Team Telegraph will be Olympic gold medallist Jonathan Edwards who won gold at the 2000 Sydney Olympics in the triple jump. Since his retirement from athletics, Edwards has become a keen cyclist and will make his Prudential RideLondon-Surrey 100 debut this year. Completing the Team Telegraph line up are TV presenter Jenni Falconer, BBC presenter John Inverdale and Welsh rugby legend Shane Williams.
1992 Olympic gold medallist Sally Gunnell will captain the Daily Telegraph's Team 50. The former 400m hurdler is the only female British athlete to hold the Olympic, World, European and Commonwealth titles simultaneously. This will be the second time Gunnell has ridden the Prudential RideLondon-Surrey 100 after she completed the inaugural event in 2013.
Retired England cricketers Darren Gough and Allan Lamb are both riding the sportive for the first time in support of the charity Help for Heroes, while rugby union is well represented in Rugby World Cup year with three members of the 2003 World Cup winning team: Matt Dawson, Martin Johnson and Simon Shaw. Dawson will be riding for the third time in support of the charity Beating Bowel Cancer and Shaw makes his debut riding in support of the charity Action for A-T.
Alongside the stars of sports and entertainment will be tens of thousands of fundraisers, many riding for very personal reasons. JJ Chalmers will be riding for the charity Get Kids Going! on a recumbent trike, as part of a trial of recumbent cycles for invited riders. JJ was injured by an IED (Improvised Explosive Device) in Afghanistan in 2011 while serving with the Royal Marines, suffering injuries to his arms, legs and face. JJ's long road to recovery culminated in his participation in the 2014 inaugural Invictus Games, winning bronze in the 4x100m mixed relay. A keen sportsman before his injuries, JJ has continued to use sport as a vital part of his rehabilitation and is determined to inspire others, particularly children with disabilities, to lead an active life and not let physical disabilities hamper their opportunities.
Alan Warner will be riding to raise money for Great Ormond Street Hospital Children's Charity who have helped support his family since his daughter Zoe was diagnosed with a brain tumour. The tumour was four centimetres in diameter when first discovered in October 2010 and Zoe endured several operations to remove it over the next four years. Since March 2014 all MRI scans have been clear and Zoe is now able to enjoy a healthy and happy life. She is also a keen cyclist and won a bronze in the National Youth Circuit Championships in 2014, inspiring her dad to get out on his bike for charity.

July 31, 2015